In our day and age, virtually every space of our private and personal life alike will be in some way dependent on connectivity. Not for nothing, wireless technology has been largely regarded as the "fourth utility". This is - of course - all the more relevant to high-stake environments such as the healthcare industry.
In a hospital or clinic facility alike, prompt and seamless access to wireless can not only impact workflow and patient experience, but it can also have life and death implications in emergency situations.
Moreover, there is a general expectation for reliable and fast networks to exist within a healthcare facility - meaning that choosing the right approach to wireless device and application rollout will likely impact reputation in the long run.
For all these reasons, there are a few important points to keep in mind to ensure outstanding connectivity levels, and therefore application performance across all devices - from clinical apparatus to everyday smartphones and tablets.
1 - Lay out clear requirements for healthcare organizations
We mentioned above that manufacturers are not always wise to the ins and outs of hospital settings. As a case study, when our CEO Shawn Jackman laid out a wireless requirements document and shared it with the manufacturers, they were thrilled to be kept in the loop of industry-specific requirements. Receiving clearly stated guidelines empowered the manufacturers to correctly instruct their teams, in turn helping them deliver their best possible results.
The bottom line is, make sure you convey your requirements and expectations to your vendors. This WILL save your organization time, and money!
2 - Follow guidance standards
The Association for the Advancement of Medical Instrumentation® (AAMI) is there to promote the safe and effective use of medical technology. Following the organization's guidelines and best practices is a crucial element to the correct functioning of any healthcare facility. Special attention should be paid to the TIR 57/97 and ISO 14971 clauses: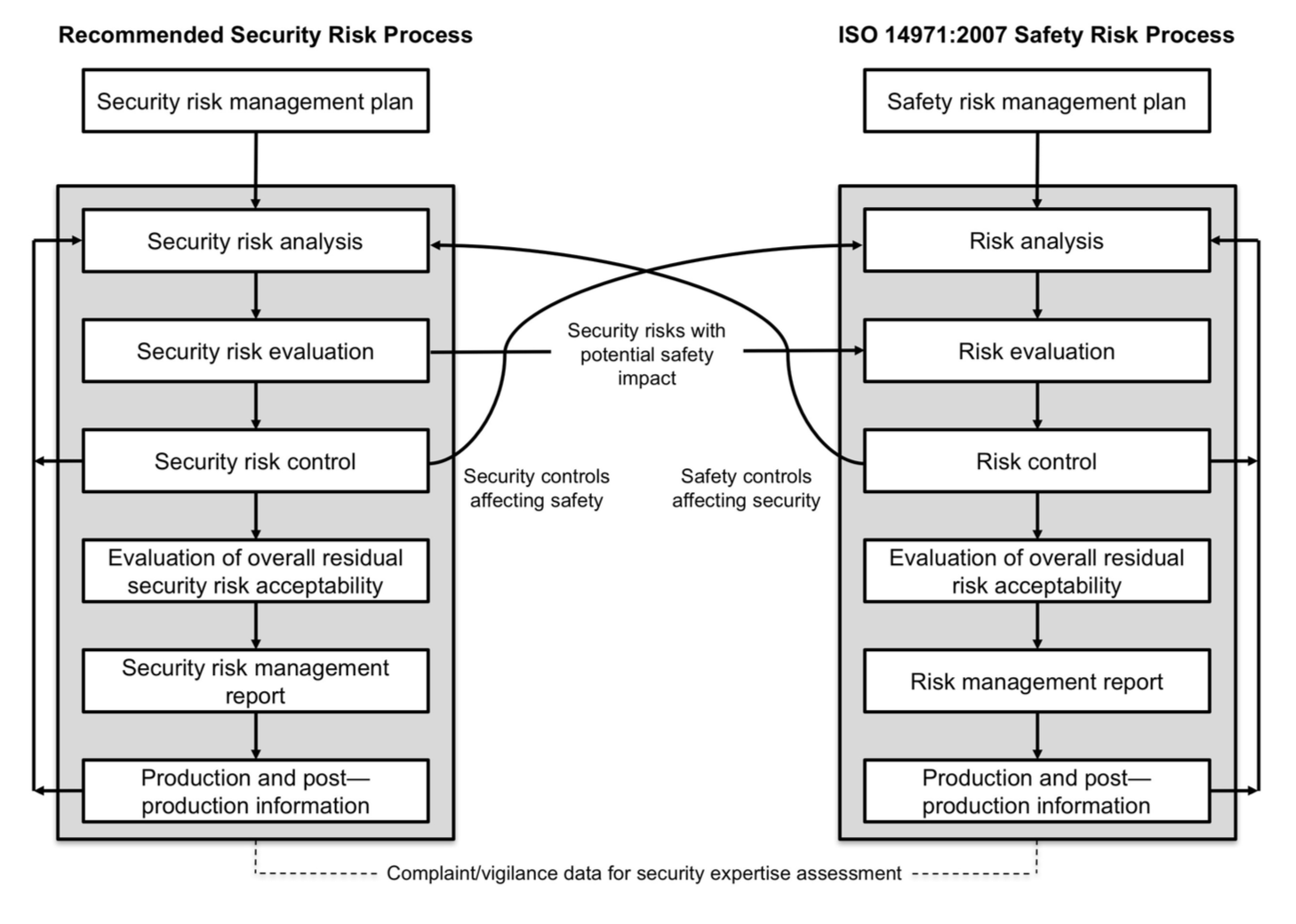 TIR 57/97 - Provides guidance on methods to perform information security risk management for a medical device in the context of the Safety Risk Management process required by ISO 14971. The TIR incorporates the expanded view of risk management from IEC 80001-1 by incorporating the same key properties of Safety, Effectiveness and Data & Systems Security with Annexes that provide process details and illustrative examples.
ISO 14971 - The process described in this document intends to assist manufacturers of medical devices to identify the hazards associated with the medical device, to estimate and evaluate the associated risks, to control these risks, and to monitor the effectiveness of the controls.
3 - Acquire the right devices
When purchasing clinical and other technological devices, a common mistake we observe is machinery being acquired without first consulting with the IT department. This is probably related to the unwarrantedly low position IT often occupies in the hospital hierarchy - which sees physicians at the top of the totem pole followed by clinical personnel and admin.
Even in our high-tech world, IT is not often seen as a strategic part of the business. This perspective is hopefully changing due to the increasingly crucial role tech plays in the success of healthcare services. Still, many organizations today are guilty of not proactively ensuring an alignment between IT and business operations.
Especially when it comes to purchasing the right devices for a clinical setting, decision-makers should shy away from purchasing solutions without strategic IT involvement. This all too common scenario almost always leads to wasted money and the inability to deploy a solution efficiently.
Also worth mentioning, not all medical manufacturers will keep wireless solutions in mind - e.g. a great WIFI-driven EKG device might be manufactured with the cheapest chips to cut corners, therefore not meeting healthcare facility standards. Quite understandably, procurement teams and end-users rarely are qualified to promptly identify such issue, nor will they find out unless they consult with IT earlier in the procurement cycle.
4 - Test before you deploy
Common pitfalls when it comes to rolling out a healthcare wireless plan are the lack of both expertise and tools to perform appropriate preliminary testing. Due to the delicate purpose of medical devices, it is necessary to ensure stable connection through and through prior to deployment. Consulting with IT professionals will help prevent serious mistakes such as lack of testing.
As tempting as it might be, neglecting testing can lead to machinery malfunctioning and potentially impact operations, costs, or even patient health. All too often, industry leaders such as Clinical Mobility are only consulted after the damage is done - this leads to extra costs and delays that could otherwise have been spared.
We could go as far as pointing out the irony in the healthcare industry promoting preventative care (wellness) to avoid high medical costs, yet failing to apply the same concept to their own IT infrastructure.
5 - Develop a maintenance plan
Every bit as important as preventive testing is developing a short, mid, and long-term management and maintenance plan.
Effective lifecycle management is one that factors in all the important aspects of device connectivity. A smart approach to device management will directly impact machine life expectancy which, in turn, will provide decision-makers with the necessary data to forecast an appropriate budget.
Conclusion
In today's world, wireless technology plays an essential role in the success of healthcare organizations. Investment decisions need to be coordinated and planned to ensure outcomes are achieved. Maximizing the success of a wireless rollout plan will be completely dependent on a thoughtful strategy focused on selecting the right devices, meeting business requirements, a quality design, carrying out appropriate testing, and scheduling system maintenance.
Are you looking for a trusted partner to meet your wireless needs?
Contact Clinical Mobility today!